Long-Term Outlook For Bitcoin Cash: September 29, 2018
Summary
Bitcoin Cash has moved in accordance with its forked originator Bitcoin; so it's necessary to watch both when trading BCH.
Price dips have pushed BCH prices to a squeeze that suggests upward price action is going to follow.
Short term remains neutral but long-term analysis shows a bullish optimism for the BCH/USD pairing.
Looking for more? I update all of my investing ideas and strategies to members of The Coin Agora. Start your free trial today »
There is a positive correlation between Bitcoin Cash (BCH-USD) and Bitcoin, which is why the prices of both cryptocurrencies tend to move in tandem. Therefore, traders should watch for price movements of Bitcoin when trading Bitcoin Cash. The analysis presented today happens to be that of the BCH/USD pairing as at September 29, 2018.
Fundamental Outlook
The main market news for Bitcoin Cash that is likely to impact the price of this pair has come from the proposed Bitmain IPO as well as the listing of BCH by Gemini and Bittrex. There is also the impact of fundamental activity on Bitcoin, which continues to have a correlating impact on Bitcoin Cash.
Added support for trading on Gemini for Bitcoin Cash is expected to boost trading volume, increase demand for BCH and lead to a short-term "pump" in price, if the similar experience with the listing of ZCash on Gemini in May 2018is anything to go by.
Technical Outlook
Technically speaking, the long-term chart of BCH/USD has featured an identified horizontal support as well as a descending trendline resistance. The dip of Bitcoin Cash below the support levels of April to July 2018 has caused a readjustment to the support line, which is now slanting downwards as opposed to being strictly horizontal. This has transformed the pattern on the weekly chart to that of a falling wedge.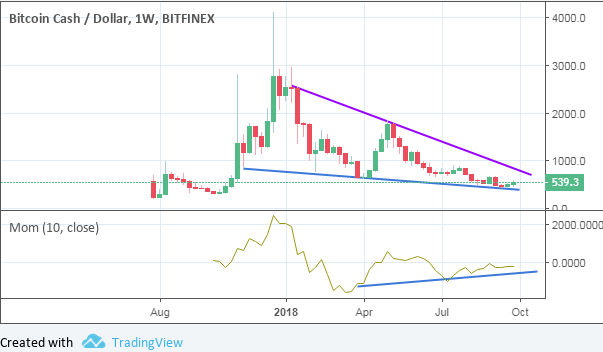 BCH/USD Weekly Chart: September 29, 2018
We also see that the momentum indicator has formed troughs which are progressively getting higher while the price lows are getting progressively lower. This is a divergence situation.